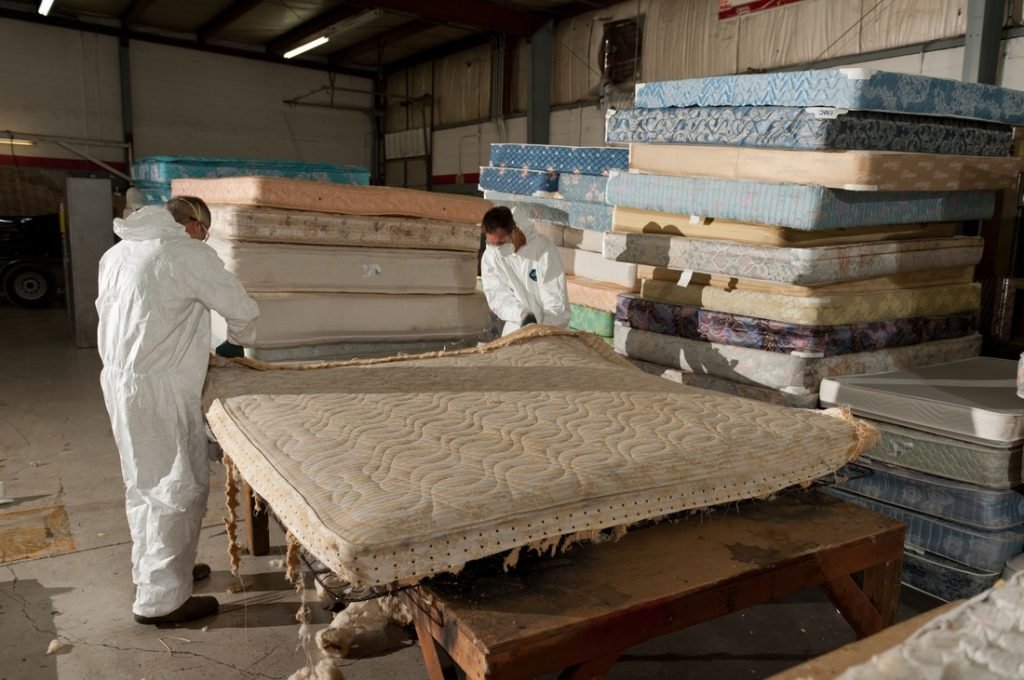 Every mattress has a finite lifespan and for that reason, our mattress disposal services are very popular. Not only do mattresses only last for so long, but they are also difficult to transport. Our team at A1 Junk Removal & Demolition Lincoln has been providing our community with mattress disposal services since our conception. We have the ability to remove just one or many mattresses from your property. We adhere to all proper disposal and recycling standards when disposing of your unwanted mattress to give you peace of mind. Our team looks forward to ridding your area of unwanted mattresses in the near future.
Our team is available to provide mattress disposals in Lincoln Nebraska for all types of mattresses. Whether you have an old foam mattress, waterbed, or box spring – we can help. Throughout our many years of rubbish removal services, we have truly seen it all. From small kid's box springs that are in need of disposal to large king foam mattresses. Whatever type of mattress you need to be disposed of, we can handle it. Call today to book your mattress disposal appointment.
Safely Transporting Mattresses
There are proper ways and improper ways to safely transport mattresses. We have heard horror stories of persons trying to dispose of mattresses themselves without adequate manpower or the proper equipment. This can often lead to unnecessary damage within the home when carrying the mattress or issues on the road when trying to transport the mattress to the correct recycling facility. If you want to negate the possibility of mattress transportation issues work with our professional team at A1 Junk Removal & Demolition Lincoln. We go the extra mile to ensure that your flooring is never scuffed and your walls are never dinged by our mattress removal staff.
Not all junk removal companies are as dedicated as us when it comes to proper recycling procedures. Many people are unaware that in almost all mattress disposal situations, the mattresses are not brought to the landfill. Unwanted mattresses should always be brought to proper recycling facilities so that the materials used to make the mattress can be given another life. Proper recycling of mattresses is a small step our team takes in an effort to be environmentally friendly. If you'd like to learn more about how your mattress is recycled, simply give our team a call today.
If you are upgrading all mattresses within a commercial property whether that be a hotel, a bed and breakfast, a shelter, or any other type of commercial space that contains many beds, disposal of the many unwanted beds can be a very big task. Our team at A1 Junk Removal & Demolition Lincoln has vast amounts of experience when it comes to working in commercial settings. We have the manpower and equipment available to dispose of hundreds of mattresses very quickly if deemed necessary. For all of your residential and commercial mattress removal needs, we are here to help.
Bennet NE Mattress Disposal near me
Firth NE Mattress Disposal near me
Hallam NE Residential  Mattress Disposal near me
Hickman NE Mattress Disposal near me
Lancaster County Mattress Disposal  near me
Lincoln NE Mattress Disposal near me
Malcolm NE Mattress Disposal near me
Milford NE Mattress Disposal near me
Panama NE Mattress Disposal near me
Seward County Mattress Disposal near me
Seward NE Mattress Disposal near me
Staplehurst NE Mattress Disposal near me
Utica NE Mattress Disposal near me
Walton NE Mattress Disposal near me
Waverly NE Mattress Disposal near me
Omaha NE Mattress Disposal near me
Bellevue NE Mattress Disposal near me
Council Bluffs Ia Mattress Disposal near me
A1 JUNK REMOVAL & DEMOLITION LINCOLN